When I moved to Kamloops about 14 years ago I was extremely frustrated at how bloody sunny it always was!! 🙂  That was because I was coming from the northern end of the province where sun wasn't nearly as abundant.  I was constantly trying to avoid the
harsh and contrasting light, but eventually I said to myself, 'self, make this happen, man up and use this to your advantage'.  I argued with myself for a while but eventually my creative (and more intelligent) side won out.
Shooting images with the sun included in the shot is actually not that hard to do.  Your camera exposes for the highlights in a scene, and that's why sunset shots without filters are always brilliant in the sky and black everywhere else or nicely exposed in the shadows with the sky blown out to almost white.  So, taking that theory to mid day shots with the sun in it, if you leave your camera on a mode, like auto – please don't shoot in auto 🙂 your camera can never accomplish what I'm about to teach you!  So, with your camera on manual or M mode, and your aperture set to f/16 or f/18 (tell you why in a bit) point the camera up to the sky but don't include the sun in it, however do point it so that the sun is just on the edge of your view.  Now, set the shutter speed manually to zero (where there are no ticks to the left or right)  Usually at f/16 and iso 200, my shutter speeds are either 1/250 or 1/320, something in that area.  Now shoot a scene with the sun in it and bingo, you're on your way to perfecting an image with the sun in it while exposing properly for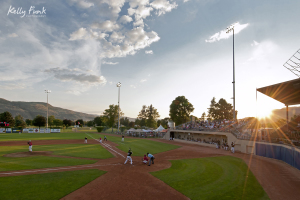 the rest of the scene!
Earlier I mentioned setting the aperture to f/16 or f/18.  The reason for that is the larger numbered apertures produce better starbursts.  A large numbered aperture is actually a smaller hole for the light to filter in to, thus creating the 'rays'.
Good luck and to see more of my work go here