Anchor Your Images for Impact:
Have you ever felt that upon looking at a powerful image that you could just reach in and touch part of it, step in the frame and continue walking through it, lean in and smell the plant or flower that was portrayed?  If you have, then you've experienced an image with a great anchor point, something that solidifies the image by showcasing either the subject in the immediate foreground or an object that helps tell a story being told by the photographer.  In this advice column I'll be talking about how to make a strong anchor point and how it creates more of an impact.  I'll refer my points to individual images for clarity and simplicity.
Image 1 – British Columbia coast sunset:  This is a classic scene where an anchor point, that being the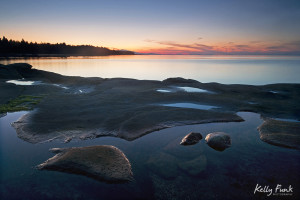 exposed rock on the bottom left was utilized to add both balance and a sense that the viewer could literally hop onto that rock and enter the scene themselves.  Think about doing that, can you imagine it?  If the answer is yes I've accomplished part of my mission.  This particular anchor was also utilized for balance; both for the 2 smaller exposed rocks on the right and the sky on the right, which is a deeper red, thus garnering more attention.  I achieved this by adjusting the height of my tripod to only about 18 inches off the ground, going as wide as my 16-35mm lens would allow and choosing a small enough aperture to make sure everything stayed in focus.  A long shutter speed allowed me to create a smooth ocean surface, which was quite choppy at the time.
Image 2 – Fence and sunset:  On the first night in the Gulf Islands of British Columbia we were lucky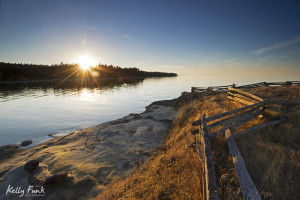 enough to stumble on to this scene about ten minutes before the sun set.  I quickly took note of the fence as a leading line and compositional balance for the setting sun.  As I looked through the viewfinder while walking around the scene I loved the look that the fence gave me; it made me feel like I was sitting on it just watching the magic of the evening unfold.  I set up my tripod right over top of the fence to garner the composition I wanted.  As in the image above the fence not only acts as a great anchor and story-telling point but also as a compositional equalizer for the sun.  I used a small aperture of 16 to achieve the star like look of the sun.
Image 3 – Just west of my hometown of Kamloops there is a place called 'Balancing Rock' which is basically a column of hardened clay supporting a massive boulder.  Literally 75 meters away lies this gem of a landscape that was very challenging to get to and portray.  I chose this scene as I felt the right side of the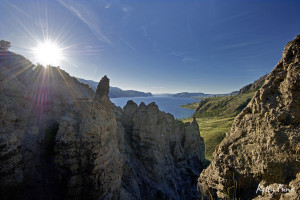 image did two things:  1) made me feel like I wanted to explore the hoodoos and 2) Added my anchor point on the right side to make it feel like the viewer would be physically there in the canyon.  As this image was a bit sketchy to get in to I hand held this shot for safety.
Using an anchor in your images can create what I call a 3-D effect; it brings viewers into your images, allows them to experience them and make them feel like they either want to be there exploring or photographing.  Try the techniques above, they're fun and effective!
To see more of my work go to my website here