I'll be honest, I've never shot a lot of black and white; of course now it just means that I don't turn a lot of colour imagery to B & W in my software program but you get the idea.  It seems I hear people talking less and less about it and seeing less of it.  So, the question then becomes is there still a desire to both shoot it and experience it as a viewer?
Before getting into that we just got back from a trip to the Gulf Islands, off the  southern coast of British Columbia. After seeing a local gentleman twice in two days I knew I wanted to photograph him.  I also knew immediately that I would showcase him in B & W.  His character, his demeanor, his appearance and his personality deserved to be portrayed that way, of that there was no doubt.  He appears on the header image of this blog post, and his name is Bob.
I also enjoy a special project that I display only in B & W.  So once again I pose to you, does B & W still seem to hold a special place for some photographers?  The answer, at least for me is what it holds in its simplicity and story telling; two extremely important points in how I like to showcase my work, whatever the colour scheme.  There are certain situations that there seems to be no substitute for B & W, and I truly hope that the desire for it doesn't fade away.  Even though I don't hear a lot of chatter about it, I do in fact still hear people talking about the 'feel' of black and white that film held.  Now, I never shot much of it in film days at all, in fact rarely, but that was probably due to the content I was recording at the time.  A lot of landscapes and wildlife, so not people oriented at all.  That came later.  With the move towards portraiture I could immediately see the relevance of black and white.  The way it isolated the person or persons and the underlying current that seemed to be bubbling under the surface all seemed to hold a deeper meaning than colour.  I think the fact that we no longer place that designated roll of B & W in the camera means that we think of it less often.  If that's in fact true, it's sad because I really believe that it is a grass roots portrayal of photography that should never be forgotten.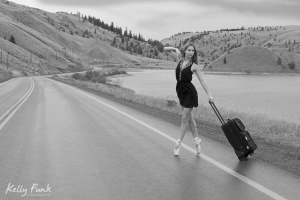 Digital photography has changed the landscape immensely for pros and amateurs alike.  The fact that we no longer pay for images taken or processed has, I believe exacerbated the lack of black and white material we see out there.  If we were paying for each roll and the processing of that roll I think we would be seeing more content.  Maybe I'm wrong on that, it's only my perception of the situation.
Regardless, the black and white medium, at least for me holds a special place.  Relevant?  Absolutely!
Try experimenting with the process of black and white in your software program.  Some images will work much better than others.  Simple, clean images that tell a story work better.  You might find yourself reinvigorated with photography 🙂
To see more of my work, check out my portfolio here
Cheers!