When I titled this latest blog, it absolutely had a double meaning…How?  Well I love to do shoots of this nature, as I wrote in my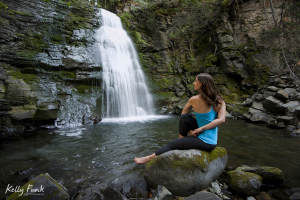 previous blog, 'Pursue the Passion', not having time constraints, creative parameters or a client with guidelines rarely happens.  Don't get me wrong, I have wonderful clients!  Basically the escape that people get from the practise of yoga is much the same for me in the sense that I too get to take a mental break from everyday life.  These shoots are a blast to put together and execute!
We had an absolutely fantastic Yogini in Robyn.  A new member of 'Your Yoga Loft' in Kamloops, she was a 'go' girl, in that it wouldn't matter the circumstances, she's ready to go!  It was cold up there!  Only 10 degrees and you can see by what she's wearing, it wasn't much protection.  Complaints?  Not one!  I love working with people that have a great work ethic.  She's also my RMT (and she's fantastic!!)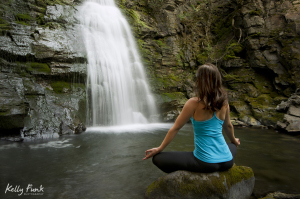 Marcia Wilson oversaw the shoot for the 'Yoga Loft' and was a huge help in posing direction, details and the 'light person' 🙂  We used soft boxes with SB900 flash units to accentuate Robyn and give her a warm tone, and also to help separate her from the falls.
This falls is only about a 25 minute drive from downtown Kamloops, which goes to show that you don't have to go far to get some fabulous locales…
Happy shooting.  See more of galleries here
Kelly