Ranking right up there with executing a shoot is putting together a vision in my creative mind that includes a solid theme, a great subject or subject matter, time of day, location and intangibles.  When all those elements come together to solidify the concept it's like getting a shot of adrenaline!  Executing that vision is, of course fun too but also challenging to have that final product live up to what your mind can put together!  It's all idealistic until the moment of truth arrives..
I had seen somewhere in an ad, the use of a vehicle behind someone that I vaguely remembered and thought it would translate nicely into a Ballerina Series shoot.  I had the thought that the story to the viewer might be freedom or an association of being free.  That, coupled with the pose would hopefully bring it to light.
Speaking of light, I find it difficult after so many years of doing this to imagine a shoot that doesn't have isolated lighting of some kind; that being light that highlights my subject and thus brings more impact to the story.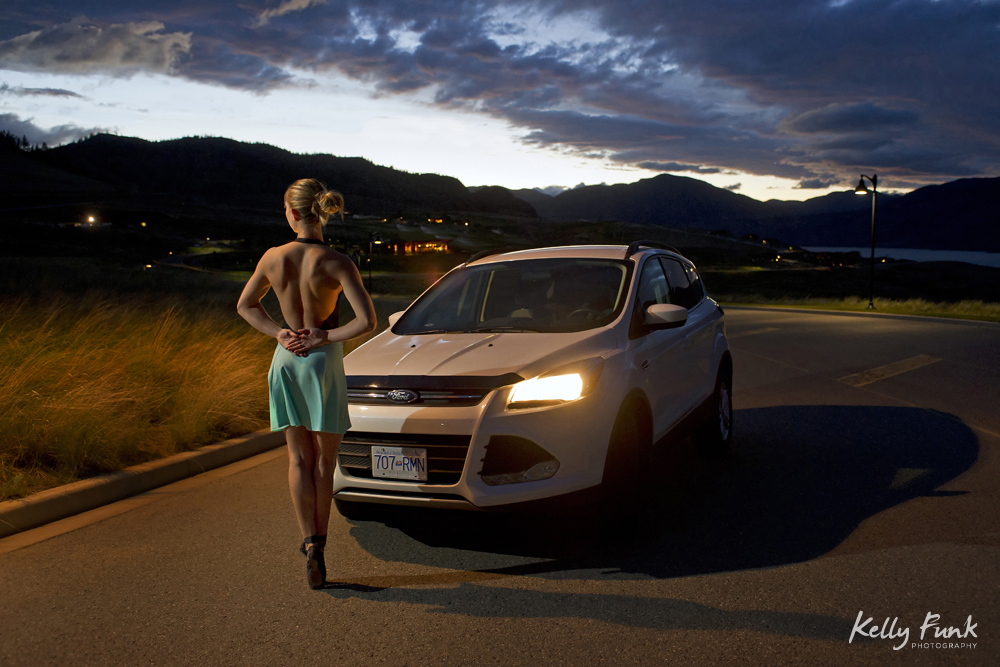 I had been to this locale a few times in the past and luckily I have a very good visual recall.  I had hoped to find a place that I could incorporate a beautiful western sky at sunset, water, a safe and clean road and some form of urban life.  This place nailed it on the head!  I used two lights on the subject after setting my ambient exposure in manual mode, remembering to boost iso as it got darker to keep my shutter speeds to a reasonable 1/100 sec. (I shoot manual mode most of the time).  I used a soft box to diffuse my light and a weaker fill light.  *Tip:  Artificial light takes less power and intensity as you boost your iso.
Next my dancer, Morgan and I worked on poses that fit the scenario, and also her style.  We were both very happy with the end result.  I didn't hurt that we got a killer sky either 🙂
To see more of my work, go to my portfolio page here