For those of you who have visited the Alberta Rockies there's no mistaking the almost painful beauty that exists here.  I used to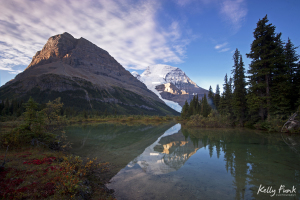 frequent the Jasper area often when I photographed wildlife and still have such fond memories.  There is a different kind of beauty that exists in the renowned Rocky Mountains however, one that is raw and moody, ethereal and awe inspiring.  It is Mt. Robson.  So aptly called 'Jewel of the Rockies' it lives up to its moniker in spades.  The highest peak in this chain at 12,972′ it is part of what's know as the 'Rainbow Range'.  The back side of Robson-located entirely in Mt Robson Provincial Park- is even more jaw dropping than the front, if that's even possible.  The nearest town is Valemount, a short 25 minute drive and worth visiting and staying at before venturing on to Robson.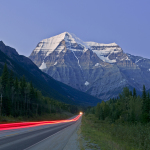 Upon seeing the north facing slope for the first time you may forget to breathe for a while so keep that in mind 🙂  I have both hiked and been helicoptered on to the mountain, and if you plan on doing extensive hiking on the back side, being flown in is surprisingly affordable, about $250 for a 10 minute ride.  That 10 minute ride translates into saving about 9 hours with all your gear if you were to hike.  You can get flown down as well for an additional $125.  I chose to hike down as I was working for a client.
From Berg Lake there are 3 campsites to choose from, and you'll need to book those in advance.  Check
here for relevant info: http://www.env.gov.bc.ca/bcparks/explore/parkpgs/mt_robson/
There are a number of trails from Berg lake that are absolutely stellar and give fantastic views of the north face of Robson, the Robson Glacier and Berg Lake.  Another resource for hiking is here: http://www.hellobc.com/mount-robson.aspx, but there are many sites about the trail system and potential routes from the backside.
The Berg lake trail from the trail head to Berg lake, should you choose to hike up or down, or both, is 21 km in length and has a 790 metre elevation change.  The hike in gorgeous, easy to navigate but be prepared to want to stay in one of the campgrounds on the way up and make it a two-dayer.  It can be done in one but as I say it's a bit of a trek, especially if you want to explore more from Berg lake, and you should.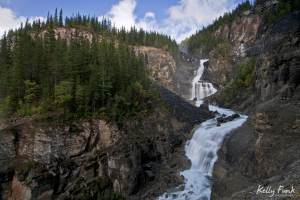 Weather can be unpredictable when you're in the clouds as much as Robson's peak is so it's bound to get a little inclement at times.  It's quite rare to see the summit actually, so when you do, drink it in!  That being said those swirling weather patterns that can create their own system can lead to wonderful photographic opportunities, so try and take advantage of it.  I would recommend 1 camera body, a wide angle, like a 16-35 and perhaps a standard lens like a 24-70.  That kit, coupled with some Graduated ND filters and a tripod (I know, it sucks packing it around), will pay off!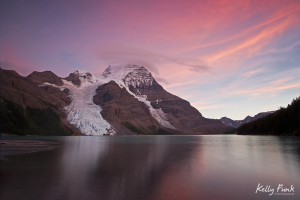 If you've seen the peak from the South side, off the highway you know how captivating the mountain can be.  The back side however is a totally different story.  There's a feeling there that you're actually part of the topography,  that you're safe even amongst all the ice, water and steep pitches.  It's quite exhilarating actually and I know, personally I'll be back at least a few more times.
To see more of my work, go to my portfolio here
Cheers, Kelly