Normally, when I'm putting one of my 'The Making of' together it's of one particular subject matter.  As you can see by the header image, this one is a bit unique!  That being said I had to include both because although they're different, the two shoots happened on the same night and within about 20 feet of each other 🙂
'Angel of the Rivers' was a concept that I had put together in my head a while ago, I was really just waiting for the weather to get comfortable enough for the dancer, Hailey.  Let's just say it wasn't tropical out there but compared to some parts of the country in February we could have broken out the lounge chairs, poured a tequila sunrise and watched the moon kick up over the horizon…so ya, no complaints!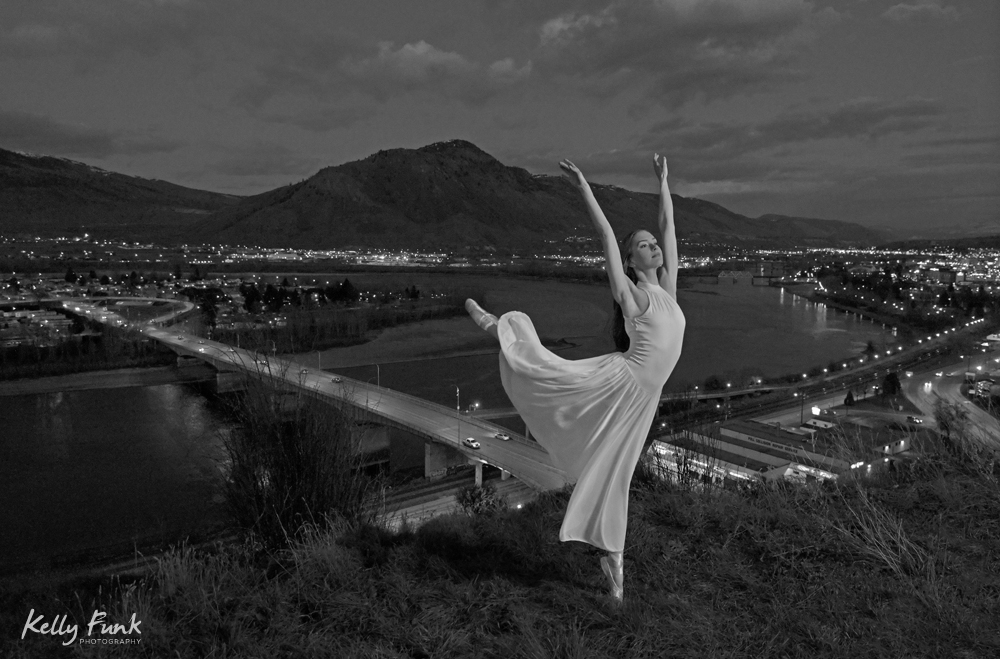 This has been one of my favourite locales to shoot the city over the years and Tourism Kamloops is still using the original shot, done about 7 years ago.  So it immediately came to mind when I wanted to put a dancer in a position to be captured as overseeing the city.  We agreed on a 'large' pose, one that was both vertical and horizontal, free and unencumbered.  The light was challenging in this as the pose Hailey is in needs for her right leg to kick back, thus my shutter speed needed to be fairly fast to freeze that leg; artificial lighting for balance and impact helped in this regard.  Her white dress helped to isolate her from the backdrop and also to pop off the page a bit, despite the lights from the city.  There's always a delicate balance between just enough light and too much when incorporating any kind of portrait into a natural setting.
As usual Hailey was awesome, never complaining from the cold, technically very solid and always just as determined as me to come away feeling we did the best we could during a shoot.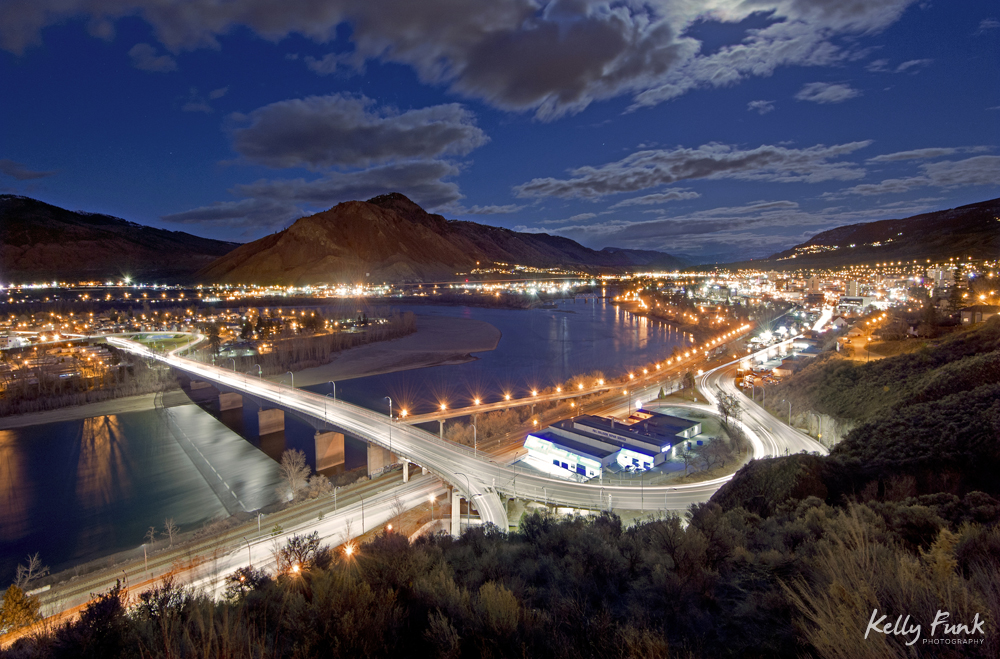 'Urban Flow' almost didn't happen.  After wrapping up the dance image I started to pack up my gear and I had even made it back to my truck.  But that moon, oh that moon called me back as it was so bright it actually was making shadows at this time.   So I geared up and changed locales slightly from my shoot with Hailey and went to town, well not literally but I was close!  A long exposure enabled me to grab some ambient light for the side of Mt. Paul and towards Valleyview.  It was nice to get back here and shoot over the city I love because it had been a few years since I was instructing at this exact location.
All in all a really fun night!
Cheers 🙂
To see more of my work go to my portfolio here